Stick To Your New Year's Resolution for 2016?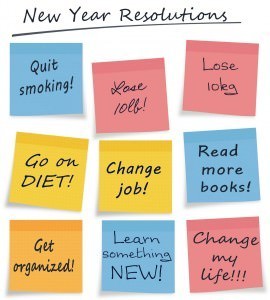 Have you made a New Year's resolution for 2016?
Maybe you've decided to lose weight, visit family and friends more frequently, quit smoking or drink less.
While we all have good intentions at the beginning of January, the sad truth is that most of us have broken our resolutions by the first week in February.
With that in mind we've come up with some expert advice to help you stick to your goals.
One key piece of advice is to choose a goal you can actually keep!
New Year Resolution: Have a Hair Makeover at elements Hair & Beauty Spa in Oxted
Have you been stuck in a rut with the same old hairstyle for years? Why not make a change for 2016 and get a new hairstyle at elements hairdressers?
A new haircut, style or colour can give your self-esteem a massive boost and give you more confidence which often has a knock-on effect in other areas of your life. You may find the confidence to socialise more, apply for that job or promotion, take up a new hobby, learn a foreign language or join that exercise class!
Change your look completely with a new hair colour. At elements hairdressers in Oxted we will offer you an in-depth hair colour consultation to help you decide the perfect look for you.
Give us a call on 01883 714072 to arrange your no obligation consultation appointment.
New Year Resolution: Treat your body to a relaxing treatment at elements Beauty Spa in Oxted
At elements we offer a wide range of quality beauty and holistic treatments, so be kind to your body in 2016 and book your treatment today. Our experienced beauty therapists can offer the latest facials, body treatments, spray tans and hair removal, and our experienced therapists provide one-to-one sessions to improve your lifestyle and general wellbeing.
How to Keep Your New Year Resolution
According to the American Psychological Association, you can stick to your New Year's resolution by following these steps:
Start out with just one resolution. If you try and focus your energy on changing just one aspect of your life, your chances of success will be even greater.
Expect to revert to your old habits from time to time. Treat any failure as a temporary setback rather than a reason to give up.
Maintain motivation. Reward yourself whenever you achieve a new step – this will give you a sense of progress.
Try a new resolution in 2016. Revisiting resolutions you didn't achieve before could lead to frustration and disappointment.
Think about what's really important to you. You don't have to follow the crowd and go with the usual resolutions.
Don't give up! Try not to be too hard on yourself just because you ate and enjoyed your fish & chips last night! Recover from your treat and get back on track and you will be much happier with yourself.